Here is my final trend post(for now anyway!)for Autumn/Winter 2013. Here I introduce my younger boys trend 'Just'. It's a move on from the analogue and radical neutrality trends of Spring/Summer 2013.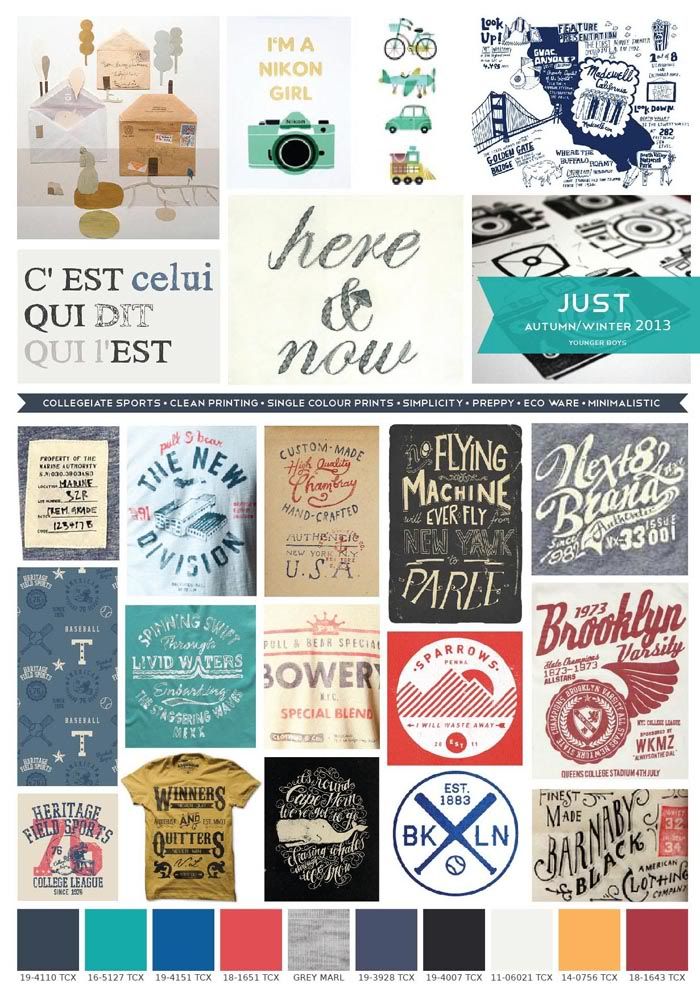 'Just' looks at the simpler things in life.
It looks at products in our lives that are invaluable to our daily existence. It looks at how these products have evolved over the years (take the camera for instance) and how we now look back and try to create the 'retro images' created by these products in a nostalgic kind of way.
The hugely popular app instagram is a perfect example of how we take the modern camera image and make it nostalgic and reminicent of old style technology by adding the retro filters they supply.
Just also looks at crafting and how we make things from natural and up/re-cycled materials. This can be represented in graphics by adding collage elements which is hugely popalar as we move forward.
The overall feeling for the graphics in this trend is minimal with distresses and filters applied to make them look older. Collegiate style graphics can be introduced nicely here with retro, calligraphy/script text intertwining text together. Labelling, branding and badging are key.
Key Themes:
Clean Printing
Collegiate prints
Single Colour Prints
Preppy
Simplicity
Eco-ware
Minimalist
I was asked by a reader of my blog recently to expand upon my trend write ups. I have tried here today to go into more detail with my explanations and hope that it helps you understand my 'Just' trend board more. I will try to update my other trends over the next few days to go into more detail with their write ups too.
Please feel free to comment with any ideas or suggestions for my blog going forward. It's always nice to hear from readers!
Meanwhile, y
ou can keep up to date with all my trend research on my Autumn/Winter 2013 and even my Spring/Summer 2014 boards on Pinterest.
You can also view all my trend work past and present by clicking on the trend label or by clicking here.